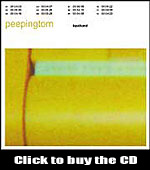 "Liquidsand"
Catalog n° INTOX007CD, Album
Release date: March 15, 2000
Buy it via bandcamp or applemusic,
Listen via spotify , youtube ...
Step by step, the ever-changing collective Peeping Tom is building a galaxy of its own in the world of electro.
A fascinating constellation revolving around the hard core of Vincent Haenni and Gabriel Scotti has recently been observed: live scores for synthesized images and real time projections, soundscapes accompanying public readings by French actor Carlo Brandt, electro-dub performances, completed by an interactive website where the visitors can try their hands at the genre. Plus, of course, a first CD (ICare/Saturn Split/db32).
And now, Liquid Sand, taking the listener to the borders of elegant and sensual downbeat music, where twelve new planets are unveiled. Visiting various musical styles (jazz, ambient, dub) as well as literary genres (from the Great French poets to a 1970s cookbook for the American housewife), Peeping Tom does not just sample the finest elements thereof. Like a giant cosmic reactor would turn sand into liquid, the duo amalgamates the components to an amazing degree of perfection.

Yet, the result is never sterile, each of the twelve tracks being on the contrary a rich and welcoming biosphere.

They now await your visit.
Gregoire Bisson
Web: www.migroz.com
Email: peepingtom@migroz.com
Disco: View the catalog