[MA-LAK]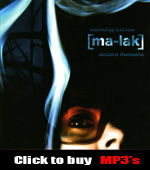 Encore humaine
Catalog n° INTOX028CD, Album
Release date: August 2008
Buy on bandcamp
Listen on spotify, applemusic, youtube ...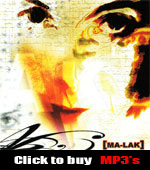 Percer les murs
Catalog n° INTOX024CD, Album
Release date: 2008
Buy on bandcamp
Listen on spotify, applemusic, youtube ...
The [ma-lak] project started in 2002, at the time, Angel (lyrics, vocals, guitar & keyboards) had composed about ten accoustic songs. Meeting Jean-Marie (bass, guitar & programming) will eventually bring those compositions towards electro.
A little while later they met up with Wan (drums) bringing these tracks to their current forms.
Their diverse influences does not raise limits, from computer sequences they have developed those pop, rock, electro atmospheres.
Although guests musicians appears on the [ma-lak] debut album "percer les murs", they perform live as a three piece killer combo !
Their first opus was originally released in february 2005 with Chris (choirs, guitar); Ronald (clarinet); Toti (choirs); Xspirit (scratch); Zôl (programming).
Their second album "Encore Humaine" has been released digitally on february 4th 2009 by intoXygene.
Le projet [ma-lak] commence en 2002, à l'époque Angel (textes, chant, guitare, clavier) a une dizaine de morceaux acoustiques.
La rencontre avec Jean-M. (Basse, guitare, séquences) va faire indéniablement évoluer les morceaux vers une tendance electro.
La formation s'agrandit peu de temps plus tard, l'arrivée de Wan (batterie) fait prendre une nouvelle tournure aux titres qui peu à peu s'affirment.
Les influences diverses de chacun font qu'ils ne se donnent pas de barrière ; avec des ambiances pops, rock , electro, ils travaillent en amont leurs séquences sur ordi.
Ils collaborent également avec d'autres musiciens et testent différentes formules sur scène; puis, au fur et à mesure, le combo se retrouve de nouveaux à trois.
En février 2005, ils sortent leur 1er Opus : "Percer les murs"; 10 titres avec la participation de :
Chris (choeurs, guitare),
Ronald (clarinette),
Toti (choeurs),
Xspirit (scratch),
Zôl (programmation).
Après de nombreux lives explosifs, [ma-lak] est découvert par intoXygene qui décide d'éditer les oeuvres de ce premier opus et les publier en digital !
Leur second album "Encore Humaine" est publié en digital le 4 février 2009 ; 14 titres qui nous entraînent dans la spirale Malakienne.
"Des guitares qui crient, des basses qui résonnent sur des rythmiques lourdes et saccadées, puis soudain la légèreté frissonne et tout redevient aérien comme posé sur un fil. La mélancolie, un songe, une histoire qu'elle raconte et tout devient magie. Avec cette voix entre l'incisif et la douceur, [ma-lak] nous livre ses émotions, ses déboires, la démence, la défonce, les états d'âmes, les sentiments torturés et le rêve."
Résolument original, c'est en live que [ma-lak] impose son style poétique et ravageur...
Web: [ma-lak]
Email: Not available yet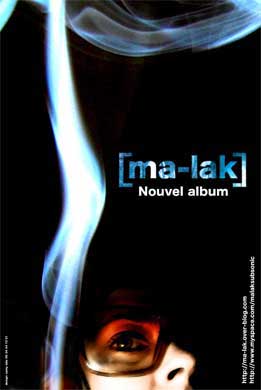 News
Angel and the little subsonic
present their latest EP : "
A sang à l'heure
" some confined vibes !
/...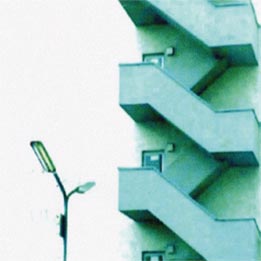 ALEX CARTER, djaimin, Dubberman, Electrobolt, escal, FRANZ TREICHLER, intoxygene, Io'n, Ion, L20 Concept, Love Motel, MA-LAK, Patrick Jammes, Peeping Tom, peepingtom, The Young Gods, THIERRY ZABOITZEFF, Virtuart, Y Front, Zaboitzeff and Crew, [ma-lak]
---