Love Motel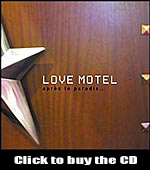 "après le paradis..." is on bandcamp !

Catalog n° INTOX014CD, Album - April, 2003
"The Perfect Male"
Catalog n° INTOX039LP, Album - February 14th 2018
"Mind The Void (Clive Jenkins remaster)"

Catalog n° INTOX052LP, Album - December 17th 2021

Listen on applemusic, spotify ...

Love Motel seduces.
How to remain insensitive to this groovy and sensual electropop ?
Love Motel is a producer apart in the electro galaxy.
Influenced by the sounds of rock, the hot and dancing black-music and road-movies soundtracks.
Love Motel is mixing genres by colliding rough basses and celestial synthesizers carried by sensual voices.
You are invited to freely wander through the velvety meandering corridors,
to open the doors and discover the songs bestowed in this private motel which...
you can never leave.

Web:
Instagram, facebook
Youtube : LoveMotelChannel & JerseyIncidentChannel,
lovemotel69.com

Disco: View the catalog
---