Electrobolt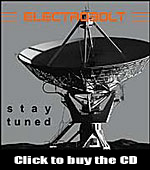 "Stay Tuned"
Catalog n° INTOX006CD, Album
Release date: March 15, 2000
buy on bandcamp !
listen on applemusic, spotify or youtube ...
Those two lads have electronic rage !
They met along a pop production in a studio session in 1998, Vincent, besides performing guitar and bass in several rock bands at this time was also acting as producer, and Jacques, the studio sound engineer, was also often in this position of artistic production.
Each of their knowledge and talent immediately revealed to be supplementary!
Electrobolt was borned.
So for the past two years, they hardly came out their homestudio, building their style. Programming big beats standing aggressive and distorted TB303 basses as well as multistyle guitars!
In the last year, few trip-hop titles came on top of the club tempi of their musical material and a one-off collaboration with Laurent as vocalist eventually came up.
And it was about time to avoid total "glotzing" eyes after too many hours in front of the computers...
Now, this electro-big-beat salsa shall lead them from their french Swiss-Alps to simply absolute worldwide leadership!
Vincent and Jacques, aka Electroboldt, have both fully composed, performed, arranged, produced, mixed and mastered the 10 original compositions embodied in their debut album: "Stay Tuned".
An amazing energetic sequence that has been licensed exclusively by Intoxygene and will be released from the beginning of October 2000.
Watch out and stay tuned for their forthcoming live performances in your club.
Web: facebook,  myspace.com/electrobolt
Email: vincent.yerly@izzy.ch
Disco: View the catalog
---